Gandan Tegchenling Monastery
●
Gandan Tegchenling Monastery
Hide

— uploads.disquscdn.com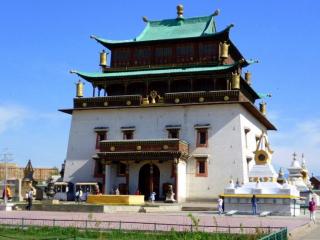 • A statue of Lord Buddha and his two disciples, installed at the historic Gandan Tegchenling Monastery in Ulaanbaatar,
Mongolia
was recently unveiled by PM Modi.
•Gandan Tegchenling Monastery is a prominent centre of Mongolian Buddhists and a treasure house of valuable Buddhist heritage
●
Emergency Response Support System
•ERSS is one of the key projects of the Union Ministry of Home Affairs under Nirbhaya Fund.
•It has been designed to play a pivotal role in mitigation or preventing escalation of crime, especially against women and children.
•Citizens can send their emergency information through call, sms, email and through the 112 India mobile app
●
International Day of Peace 2019: 21 September
•Established in 1981 by unanimous United Nations resolution, Peace Day provides a globally shared date for all humanity to commit to Peace above all differences and to contribute to building a Culture of Peace.
•Theme: "Climate Action for Peace".
●
World's Second Largest Coal Block
•Deaucha Panchami coal block of Birbhum Coalfield Area is World's Second Largest Coal Block.
•Situated in West Bengal. This coal mine is the largest coal mine or coal block in Asia, due to the number of coal reserves