Daily Quick Revision Current Affairs || 1 October 2019
●
National Nutrition Survey
•With the help of UNICEF, the Ministry of Health and Family Welfare recently conducted the first-ever comprehensive National Nutrition Survey
•The survey recorded malnutrition that included micronutrient deficiencies and details of non-communicable diseases such as diabetes, hypertension, cholesterol and kidney function in children and adolescents
•Around 10% of children in the age group of 5 to 9 years and adolescents in the age group 10 to 19 years are pre – diabetic
•The survey for the first time proved the coexistence of obesity and under nutrition.
•One in five children in the age group 5 to 9 years were stunted.
•Tamil Nadu and Goa had the highest number of adolescents who were obese or overweight
●
School Education Quality Index (SEQI): by NITI Aayog
•Aims to bring an 'outcomes' focus to education policy by providing States and UTs with a platform to identify their strengths and weaknesses and undertake requisite course corrections or policy interventions.
•The index is developed through a collaborative process, including key stakeholders such as Ministry of Human Resource and Development (MHRD), the World Bank and sector experts.
•It consists of 30 critical indicators that assess the delivery of quality education.
•Kerala has emerged on top among 20 large states in terms of quality of school education, followed by Rajasthan and Karnataka, [
while the most-populous Uttar Pradesh was ranked at the bottom position during 2016-17
]
•The highest incremental performance has been recorded in Kerala. As against 77.6% score in 2015-2016, the state has recorded 82.2% in 2016-2017
•The overall performance has declined in Karnataka and Uttarakhand.
•
All seven union territories have shown an improvement in their overall performance scores
●
Electoral bond scheme
•electoral bonds are aimed at rooting out the current system of largely anonymous cash donations made to political parties which lead to the generation of black money in the economy.
[electoral bond, which will be a bearer instrument, will not carry the name of the payee and can be bought for any value, in multiples of Rs 1,000, Rs 10,000, Rs 1 lakh, Rs 10 lakh or Rs 1 crore.]
•State Bank of India (SBI) has been authorized to issue and encash Electoral Bonds through its 29 Authorized Branches
●
Penicillin to fight rheumatic fever
•government is planning on the revival of Penicillin in a bid to fight against drug resistance and to tackle rheumatic heart disease.
•Penicillin is one of the oldest antibiotics known to man and is still effective in many cases as not many organisms have developed resistance to it yet.
•Discovered in 1928.
•
Rheumatic fever
•It is endemic in India.
•It remains to be one of the major causes of the cardiovascular disease which accounts for nearly 25 to 45 per cent of acquired heart disease.
●
Sovereign Gold Bond scheme
•The sovereign gold bond was introduced by the Government in 2015.
•Government introduced these bonds to help reduce India's over dependence on gold imports.
•The move was also aimed at changing the habits of Indians from saving in physical form of gold to a paper form with Sovereign backing
•
Minimum and Maximum limit
: The minimum permissible investment limit will be 1 gram of gold, while the maximum limit will be 4 kg for individual
●
Enterprise Development Centres (EDCs)
•These EDCs aimed at developing a cadre of indigenous entrepreneurs in the MSMEs, the EDCs will be similar to incubators for start-ups.
•They shall be run by special purpose vehicles in partnership with the private sector, business management organisations, local industry associations
●
National Crisis Management Committee(NCMC)
•The NCMC gives direction to the Crisis Management Group as deemed necessary
•For effective implementation of relief measures in the wake of natural calamities, the Government of India has set up a National Crisis Management Committee.
•Cabinet Secretary is it's Chairman
●
BrahMos Missile
•It flies almost three times the speed of sound at Mach 2.8 and has a range of 290 km.
•The missile has been jointly developed with Russia and is named after the rivers Brahmaputra and Moskva in Russia
●
Ancient buried river
Hide

— uploads.disquscdn.com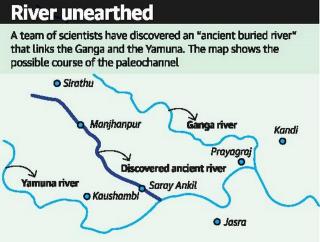 •The Union Water Ministry has excavated an old, dried-up river in Prayagraj (formerly Allahabad) that linked the Ganga and Yamuna rivers
•The newly discovered river was a "buried paleochannel that joins the Yamuna river at Durgapur village, about 26 km south of the current Ganga-Yamuna confluence at Prayagraj
•The
"ancient buried river" is around 4 km wide, 45 km long
and consisted of a 15-metre-thick layer buried under soil