Daily Quick Revision Current Affairs || 11 October 2019
●
Pradhan Mantri Innovative Learning Programme "DHRUV"
•It is a 14 day learning programme, was launched recently from Indian Space Research Organisation (ISRO) Headquarters at Bengaluru
•The programme is called DHRUV (after the Pole Star) and
every student to be called 'DHRUV TARA'
•It is being started to identify and encourage talented children to enrich their skills and knowledge
●
POSHAN Atlas
•MoWCD in association with the Bill & Melinda Gates Foundation and Deendayal Research Institute is developing a POSHAN atlas under POSHAN abhiyan
•Its aim is to map the crops and food grains grown in different regions of the country so that nutritious protein rich food in local areas can be promoted.
•According to the World Bank Global Nutrition Report – 2018, malnutrition costs India at least $10 billion ($10 billion!😯! )annually in terms of lost productivity, illness and death
•The solution to tackling malnutrition lies in promoting regional cropping patterns and embracing local food that are rich in protein. The atlas will help tackle malnutrition effectively
•Recommendations to solve malnutrition by Food and Nutrition Security Analysis, India, 2019:
Recommendations are grouped by the three pillars of food security: availability, access and utilisation
【And awareness of all three (which is to be done by You and Me:)】
●
National Diabetes and Diabetic Retinopathy Survey report for 2015-19
: released by the health ministry.
•Prevalence of diabetes in India has been recorded at 11.8% in the last four years with
almost same percentage of men and women suffering from the disease
•Highest prevalence of diabetes (13.2%) was observed in the 70-79 years' age group.
•
There are estimated 72.96 million
cases of diabetes in adult population of India
•It is estimated that diabetic retinopathy was responsible for 1.06% of blindness and 1.16% of visual impairment globally in 2015
●
Surakshit Matritva Aashwasan (Suman)
•It aims to provide dignified and quality health care at no cost to every woman and newborn visiting a public health facility [provide quality healthcare at zero cost to pregnant women, new mothers and newborns]
•Under the scheme, the beneficiaries visiting public health facilities are entitled to several free services
•All pregnant women, newborns and mothers up to 6 months of delivery will be able to avail several free health care services
•
India's maternal mortality rate has declined from 254 per 1,00,000 live births in 2004-06 to 130 in 2014-16.
•Between 2001 and 2016, the infant mortality rate came down from 66 per 1,000 live births to 34.
●
Hindu Kush- Himalayan region and the climate change
Hide

— uploads.disquscdn.com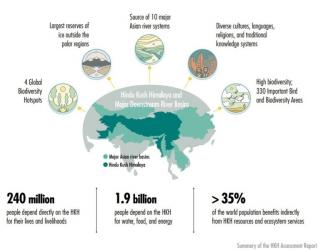 •To better gauge the impact of climate change on the Hindu Kush mountains India Meteorological Department (IMD) will collaborate with meteorological agencies in China and Pakistan, among others, to provide climate forecast services to countries in the region.
•The Hindu Kush-Himalayan region spans an area of more than 4.3 million square kilometres in Afghanistan, Bangladesh, Bhutan, China, India, Myanmar, Nepal, and Pakistan.
•
The region stores more snow and ice than anywhere else in the world outside the polar regions, giving its name: 'The Third Pole'.
•It contains the world's highest mountains, including all 14 peaks above 8,000 metres, is the source of 10 major rivers, and forms a formidable global ecological buffer.
•Climate change has become a major concern in the Third Pole.
•Mountain systems are particularly sensitive to climate change and the Third Pole region is home to some of the people most vulnerable to these changes in the world.
•The Third Pole Environment (TPE): TPE, an international research program, was launched in 2009 and focuses on the Tibetan Plateau and surrounding mountain ranges.
●
'Green wall' of India
Hide

— uploads.disquscdn.com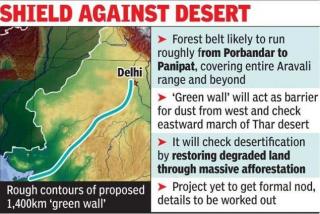 •The Centre is mulling an ambitious plan to create a green wall on North- Western part of India (Porbandar to Panipat)
•It will be a 1,400km long and 5km wide green belt from Gujarat to the Delhi-Haryana border, on the lines of the "Great Green Wall" running through the width of Africa, from Dakar (Senegal) to Djibouti, to combat climate change and desertification
•The green belt may not be contiguous, but would roughly cover the entire degraded Aravali range through a massive afforestation exercise
【Its good to read 'Green wall' after Third Pole region & Climate change】
●
Carpet Export Promotion Council (CEPC):
•It is a non-profit making organization.
•Setup in 1982 by the Ministry of Textiles.
•Objective: To promote export of Carpets, all types of Handmade / handmade knotted Carpets, Rugs, Floor Coverings & other allied Products from India.
•
Indian Handmade Carpet Industry is ranked No. 1 status in the international market
achieved highest quantity both in terms of value and production in the world market
●
Phazolicin:
•It is a new antibiotic discovered in the soil of a tropical rainforest.
•It was recently isolated deep in the tropical forests of Los Tuxtlas, Mexico
•The antibiotic phazolicin is a class of peptide produced in the ribosome, and is part of a diverse class of natural products with a variety of biological uses
●
Asia Environmental Enforcement Award
•Senior Indian Forest Service
(IFoS) officer Ramesh Pandey
has been selected by United Nations Environment Programme (UNEP) for prestigious Asia Environmental Enforcement Award
•Ramesh Pandey is recognised for combating trans-boundary environmental crime.
•Pandey also introduced M-Stripes (Monitoring System for Tigers Intensive Protection & Ecological Status), a novel software-based patrolling in Dudhwa Tiger Reserve on the recommendation of National Tiger Conservation Authority