Daily Quick Revision Current Affairs || 16 October 2019
●
Global Hunger Index-2019;-{released annually by 'Welthungerhilfe & Concern Worldwide'}
Hide

— uploads.disquscdn.com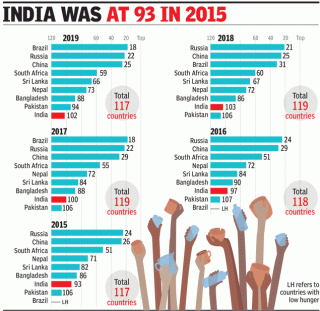 ↪GHI scores are based on 4 main indicators⤵
1.UNDERNOURISHMENT↪ reflecting insufficient caloric intake
2.CHILD WASTING↪low weight-for-height U-5
3.CHILD STUNTING↪low height-for-age(U-5)
4.CHILD MORTALITY↪deaths per 1000 live birth(U-5)
•
India ranked 102
on the index among 117 qualifying countries with a score of 30.3 [serious hunger]
•Pakistan (94) : in 2015 pak was at 106 (and india was at 93)
•Around 90 per cent of children aged between 6 and 23 months in the country don't even get minimum required food 😔!
●
Randomised Controlled Trial
•It is an experiment that is designed to isolate the influence that a certain intervention or variable has on an outcome or event.
•At any point in time, there are multiple factors that work in tandem to influence various social events.
•RCTs allow economists and other social science researchers to isolate the individual impact that a certain factor alone has on the overall event
•Randomised controlled trials promise to overcome this problem through the use of randomly picked samples.
•[The new Economics Nobel laureates – Abhijit Banerjee, Esther Duflo and Michael Kremer – are considered to be instrumental in using randomised controlled trials to test the effectiveness of various policy interventions to alleviate poverty.]
●
The Kurds
Hide

— uploads.disquscdn.com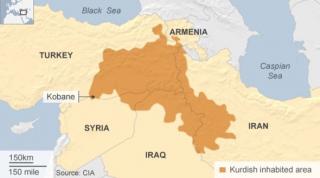 •At an estimated 25 million to 35 million population, they are the world's largest stateless ethnic group.
•
The majority among the Kurdish people today are Sunni Muslim
, but there are adherents of other faiths too, including Sufism and other mystical practices.
•They live in the highlands of southern and eastern Turkey, northern Iraq, the northeastern Syria, northwestern Iran, and parts of south Armenia, and
are a minority in each of these countries
•The Kurds have never achieved nation-state status, except in Iraq, where they have a regional government called Iraqi Kurdistan
•Recently, the Trump administration ordered US troops to step aside from the border in northern Syria, effectively paving the way for Turkey to launch an offensive against US-backed Kurdish forces who they regard as enemies.
●
IMF's World Economic Outlook (WEO) 2019
Hide

— uploads.disquscdn.com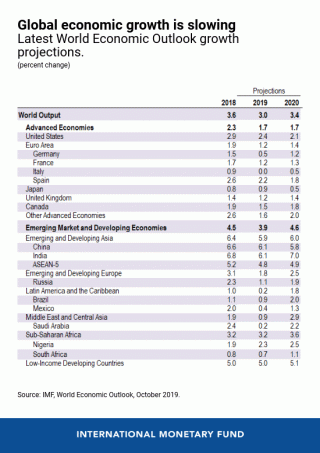 •India(6.1%) retains its rank as the world's fastest-growing major economy, tying with China(6.1%)
•However, India's economy is projected to pick up and grow by 7 per cent in the 2020 fiscal year (and Chinese 5.8%)
•United States : 2.1%
•Japan : 0.9%
•Russia : 1.1%
• Southi Arebia : 0.2%
• South Africa : 0.7%
• Pakistan : 3.3% ( 2.4% in 2020)
●
Microbial fuel cells
•It is a device that converts chemical energy to electrical energy by the action of microorganisms
•Microbial fuel cells have been installed at a zoo in London.
•Using these cells, a plant has taken the botanical world's first selfie
•Under sunlight, plants produce sugars and oxygen from water and CO2 (photosynthesis).
•These sugars do not remain in the leaves, but are transported throughout the plant to the stem and roots.
●
One Nation One FASTag
•The scheme will be implemented from December 1, 2019, and can be availed upon activation by new cars having Radio Frequency Identification (RFID) tags on national and state highways throughout the country.
•The plan aims to integrate the collection of toll digitally and ensure seamless mobility of vehicles across India.
•The payment method is a part of the National Electronic Toll Collection (NETC) programme.
•A FASTag is valid for five years and needs to be recharged only as per requirement.
•Cameras at toll booths will take photos of passengers in a vehicle, which will be useful for the Ministry of Home Affairs as there will be a record of a vehicle's movement
●
2019 Booker prize
•1)The Testaments by Margaret Atwood and 2)Girl, Woman, Other by Bernardine Evaristo have jointly won this year's Booker prize
•this year the jury was unanimous after several rounds that this year's award must be shared
•prize has been shared in the past.[The first time this happened was in 1974 when Nadine Gordimer and Stanley Middleton won its together]
•Booker prize: Awarded every year to the best novel that was "written in English and published in the UK or Ireland".
Launched in 1969.
●
The National Blindness & Visual Impairment Survey India 2015-2019
•survey looks at district-wise prevalence of blindness and visual impairment.
•The prevalence of blindness is highest among those who are at least 80 years old (11.6%).
• Highest impairment (50+) : Bijnor,UP
• Lowest impairment (50+) : Thoubal, Manipur
●
World Food Day:
•Celebrated on October 16 every year to raise awareness on the issues of poverty and hunger.
•Established by Food and Agriculture Organization of the United Nations (FAO) in November 1979.
•The theme of World Food Day 2019 is "Our Actions Are Our Future. Healthy Diets for A #ZeroHunger World".
●
2019 UNESCO Asia-Pacific Awards for Cultural Heritage Conservation
•Sixteen projects from five countries – Australia, Bhutan, China, India and New Zealand – have been recognized by the international Jury of conservation experts in this year's Awards
•Awardees from India include:
Vikram Sarabhai Library, Indian Institute of Management, Ahmedabad, India.
●
Maritime States Development Council:
•MSDC is an apex advisory body for the development of the Maritime sector and aims to ensure integrated development of Major and non-Major Ports.
•The MSDC was constituted in May, 1997 to assess in consultation with State Governments, the future development of existing and new Minor Ports