Daily Quick Revision Current Affairs || 19 October 2019
●
Guru Ravidas
: (1398-- 1540) 142 years?!
•He was a poet and saint of the Bhakti movement.
•Born in Varanasi to the 'untouchable' leather tanners caste.
•He is believed to be a disciple of the bhakti saint-poet Ramanandaand a contemporary of the bhakti saint-poet Kabir.
•One of his famous disciples was the saint, Mirabai.
•Ravidas taught removal of social divisions of caste and gender, and promoted unity in the pursuit of personal spiritual freedoms
•Yielding to the protests against the Supreme Court-directed demolition of a Guru Ravidas temple in south Delhi, the Centre has agreed to allot the same site to the devotees to construct a new temple
●
How Supreme Court chooses the Chief Justice of India
•The Chief Justice of India is traditionally appointed by the outgoing Chief Justice of India on the day of his (or her) retirement.
[By convention, the outgoing Chief Justice of India selects the most senior then-sitting Supreme Court judge.]
•Chief Justice of India Ranjan Gogoi has recommended
Justice Sharad Arvind Bobde
as his successor and the 47th Chief Justice of India in keeping with convention and the seniority norm.
•Article 124(1) of the Indian Constitution says "there shall be a Supreme Court of India consisting of a Chief Justice of India".
•The procedure is initiated by the Law Minister seeking the recommendation of the outgoing CJI at the 'appropriate time', which is near to the date of retirement of the incumbent CJI.
•The CJI sends his recommendation to the Law Ministry; and in the case of any qualms, the CJI can consult the collegium regarding the fitness of an SC judge to be elevated to the post.
●
Naga Peace Accord
Hide

— uploads.disquscdn.com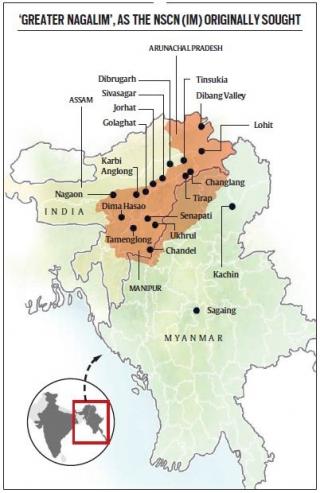 •The British annexed Assam in 1826, and in 1881, the Naga Hills too became part of British India. [The first sign of Naga resistance was seen in the formation of the Naga Club in 1918, which told the Simon Commission in 1929 "to leave us alone to determine for ourselves as in ancient times"]
•In 1946 came the Naga National Council (NNC), which declared Nagaland an independent state on August 14, 1947.
•The NNC resolved to establish a "sovereign Naga state" and conducted a "referendum" in 1951, in which "99 per cent" supported an "independent" Nagaland
•Greater Nagalim" comprising "all contiguous Naga-inhabited areas", along with Nagaland. That included several districts of Assam, Arunachal and Manipur, as also a large tract of Myanmar [The Nagaland Assembly has endorsed the 'Greater Nagalim' demand]
•Four years after the government inked the Naga peace accord in 2015, the Centre has now said that the process had almost concluded, despite the fact that the talks had hit a roadblock in its final stages.
●
Asbestos in Baby Powder
•Asbestos is a term used to refer to six naturally occurring silicate minerals. All are composed of long and thin fibrous crystals, each fiber being composed of many microscopic 'fibrils' that can be released into the atmosphere by abrasion and other processes.
•When asbestos is used for its resistance to fire or heat, the fibers are often mixed with cement or woven into fabric or mats. These desirable properties led to asbestos being used very widely.
•Johnson and Johnson (J&J) recalled 33,000 bottles of one lot of its talcum powder (Baby Powder) supplied in the United States (US) on October 18, 2019, as asbestos was found in it.
●
UN Human Rights Council
•Established in 2006 with the aim of promoting and protecting human rights around the globe, as well as investigating alleged human rights violations.
•Made up of 47 member states, which are selected by the UN General Assembly on a staggered basis each year for three-year-long terms.
•Members serve for a period of three years and are not eli
●
National milk sample safety quality survey:
released by the Food Safety and Standard Authority of India (FSSAI).
•This is the first-of-its-kind comprehensive survey FSSAI has conducted through a third-party agency.
•It covered both organised (retailers and processors) as well as non-organised (local dairy farms, milk vendors and milk mandis) sectors.
•In the survey of 2,607 processed milk samples, 10.4% had safety issues while another 37.7% missed at least one quality standard.
•
On an average only, 7% of the milk had safety issues (93% milk is safe)
, and that most of the milk sold both in raw and processed form was fit for human consumption
•Aflatoxins are toxins produced by certain fungi which are generally found in agricultural crops like maize, peanuts, cotton seed and others. They are carcinogenic in nature, which means they can cause cancer.
●
Community policing scheme 'Prahari'
•Launched by Delhi Police.
•To prevent crime and maintain law and order in Delhi.
•Under this scheme, civil personnel such as chowkidars:) and security guards deployed in the commercial and VIP areas will act as the eyes and ears of the police.
●
What is Merchant Discount Rate?
•It is a fee charged from a merchant by a bank for accepting payments from customers through credit and debit cards in their establishments
•In a move that may boost digital payments, businesses with an annual turnover of more than ₹50 crore will have to mandatorily offer electronic mode of payments to their customers from 1 November. Besides, no charges or merchant discount rate (MDR) will be levied on either customers or merchants.
●
Defence of Andaman & Nicobar Islands 2019 (DANX-19),
•It is a large scale joint services exercise, was recently conducted by Andaman and Nicobar Command (ANC).
•Carried out by Indian Army, Navy, Air Force and Coast Guard.
●
World's first female spacewalking team makes history:
•The world's first female spacewalking team made history high above Earth on 18th October, floating out of the International Space Station to fix a broken part of the power network.
•
The team included astronauts Christina Koch and Jessica Meir.
•This marked the first time in a half-century of spacewalking that a woman floated out without a male crewmate
●
Shirui lily festival:
•Shirui Lily Festival inaugurated in
Manipur.
•Shirui Lily Festival is an annual five-day State festival celebrated in Ukhrul district to spread awareness about the endangered state flower 'Shirui Lily' as well as to promote Ukhrul district as a potential tourist destination in Manipur
•Shirui Lily, or Lilium mackliniae, is the State Flower of Manipur found only in the upper ranges of Shirui Hills in Ukhrul district of Manipur.