Daily Quick Revision Current Affairs || 4 October 2019
●
What legal rights do deities enjoy?
•Supreme Court said: "The very words Juristic Person connote recognition of an entity to be in law a person which otherwise it is not.
(In other words, it is not an individual natural person but an artificially created person which is to be recognised to be in law as such.")
•Gods, corporations, rivers, and animals, have all been treated as juristic persons by courts.
▫️Rights deities have:
•Own property.
•Pay taxes
•Sue and being sued.
•Do not have fundamental rights or other constitutional rights (Sabarimala case).
▫️In May, the Punjab and Haryana High Court held that the "entire animal kingdom" has a "distinct legal persona with corresponding rights, duties, and liabilities of a living person".
▫️On March 20, 2017, the Uttarakhand High Court declared that the Ganga and Yamuna would be legally treated as "living people," and enjoy "all corresponding rights, duties and liabilities of a living person".
●
National Health Systems Resource Centre (NHSRC): Established in 2006.
•Its Mandate is to assist in policy and strategy development in the provision and mobilization of technical assistance to the states and in capacity building for the Ministry of Health and Family Welfare (MoHFW) at the centre and in the states
•It has a 23 member Governing Body, chaired by the Secretary, MoHFW, Government of India with the Mission Director, NRHM as the Vice Chairperson of the GB and the Chairperson of its Executive Committee
●
District mineral foundations
•Rajasthan to create pneumoconiosis fund with DMF money
•
Pneumoconiosis
, a lung disease, mostly affects workers who work in the mining and construction sectors and deal with soil, silica, coal dust and asbestos. (The disease includes asbestosis, silicosis and coal workers' pneumoconiosis.)
•DMFs were instituted under the Mines and Minerals (Development and Regulation) (MMDR) Amendment Act 2015.
•They are non-profit trusts to work for the interest and benefit of persons and areas affected by mining-related operations.
●
Deep Carbon Observatory
View

— uploads.disquscdn.com
•It is a global community of more than 1000 scientists on a ten-year quest to understand the quantities, movements, forms, and origins of carbon in Earth
•Deep Carbon Observatory (CDO) has released a report on Carbon, it's emissions and availability
•The study's results are concerning due to past extinction events linked to the mass release of atmospheric CO2.
•Less than one percent of the planet's carbon is found above surface.
•Human emissions of the greenhouse gas are 100 times greater than all of Earth's volcanoes
•Carbon plays a fundamental role on Earth. It forms the chemical backbone for all essential organic molecules produced by living organisms. Carbon-based fuels supply most of society's energy
●
Protection from Online Falsehoods and Manipulation Act 2019: Notified by Singapore
•It will enable the government to order social media websites to take down posts deemed to be false.
•The Act's definition of a falsehood is limited to a statement of fact and does not cover opinions, criticisms, satire or parody.
•Technology companies and rights groups have expressed concerns and worried because this law will hurt innovation and the growth of the digital information ecosystem. They argue that the law imposes limitations on free speech
【BJP would like this!!】
●
Vayoshreshtha Samman:
•It is a Scheme of National Awards instituted by the Ministry of Social Justice & Empowerment (D/o Social Justice & Empowerment)
•It was upgraded to the status of National Awards in 2013.
The award is for institutions involved in rendering distinguished service for the cause of elderly persons especially indigent senior citizens and to eminent citizens in recognition of their service/achievements.
●
International Day of Older Persons
•On 14 December 1990, the United Nations General Assembly designated 1 October the International Day of Older Persons.
•The theme of the 2019 commemoration is
"The Journey to Age Equality".
●
Ex Ekuverin – 19:
•Tenth edition of the Joint Military Exercise Ekuverin between the
Indian Army and the Maldives National Defence Force
will be held in Pune, Maharashtra.
•The two Forces have been conducting Exercise Ekuverin meaning 'Friends' in the Dhivehi language since 2009.
•The 14 days Joint Exercise held alternatively in India and Maldives
●
Nomadic Elephant 2019:
•It is Indo – Mongolian joint military training.
•Nomadic Elephant-XIV is aimed at training troops in counter insurgency &counter terrorism operations under United Nations mandate.
●
Vande Bharat Express train:
•Vande Bharat Express on Delhi-Katra route was flagged off recently.
•The semi-high speed Train 18, was rechristened as Vande Bharat Express, is country's second such train.
•The first Vande Bharat Express on Delhi- Varanasi route began operations in February this year.
•The indigenously developed Vande Bharat train can run up to a maximum speed of 160 kmph, making it India's fastest train
●
PRAKASH (Power Rail Koyla Availability through Supply Harmony) portal
•portal has been launched for transparency and better coordination in coal supplies to power plants.
•Aims at bringing better coordination for coal supplies among all stakeholders viz – Ministry of Power, Ministry of Coal, Coal India, Railways and power utilities.
•Portal is developed by NTPC and sources data from different stakeholders
●
Bandipur Tiger Reserve
Hide

— uploads.disquscdn.com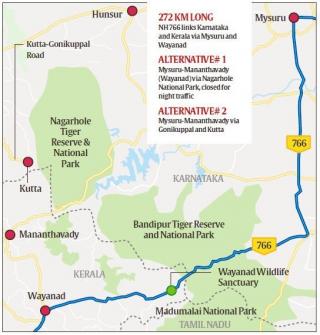 •Kerala's Wayanad district has witnessed a series of protests against a ban on night traffic on the forest stretch of NH 766, a key highway between Karnataka and Kerala that passes through the Bandipur Tiger Reserve in Karnataka.
•
Although the night ban was first enforced a decade ago
, the immediate trigger for the current agitation was a recent Supreme Court direction to the Ministry of Environment, Forest & Climate Change and the National Highway Authority of India (NHAI) to
suggest alternative routes so that NH 766 could be shut down permanently
●
Elephant Endotheliotropic Herpesvirus (EEHV):
•EEHV is as a type of herpes virus that can cause a highly fatal hemorrhagic disease in young Asian elephants between the ages of 1 and 12.
•If a young elephant dies before reproducing, it affects the population of the species as a whole in the concerned geography.
•
The virus spreads from one elephant to another but not to other animals or human beings
•It is a rare disease that has killed five elephants in Odisha