Hindu Kush- Himalayan region and the climate change
●
Hindu Kush- Himalayan region and the climate change
Hide

— uploads.disquscdn.com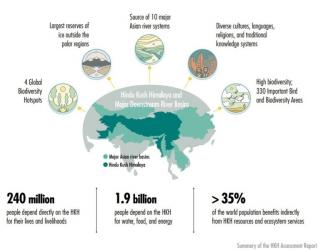 •To better gauge the impact of climate change on the Hindu Kush mountains India Meteorological Department (IMD) will collaborate with meteorological agencies in China and Pakistan, among others, to provide climate forecast services to countries in the region.
•The Hindu Kush-Himalayan region spans an area of more than 4.3 million square kilometres in Afghanistan, Bangladesh, Bhutan, China, India, Myanmar, Nepal, and Pakistan.
•
The region stores more snow and ice than anywhere else in the world outside the polar regions, giving its name: 'The Third Pole'.
•It contains the world's highest mountains, including all 14 peaks above 8,000 metres, is the source of 10 major rivers, and forms a formidable global ecological buffer.
•Climate change has become a major concern in the Third Pole.
•Mountain systems are particularly sensitive to climate change and the Third Pole region is home to some of the people most vulnerable to these changes in the world.
•The Third Pole Environment (TPE): TPE, an international research program, was launched in 2009 and focuses on the Tibetan Plateau and surrounding mountain ranges.