●
Naga Peace Accord
Hide

— uploads.disquscdn.com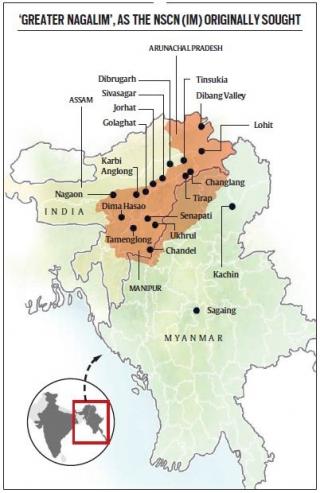 •The British annexed Assam in 1826, and in 1881, the Naga Hills too became part of British India. [The first sign of Naga resistance was seen in the formation of the Naga Club in 1918, which told the Simon Commission in 1929 "to leave us alone to determine for ourselves as in ancient times"]
•In 1946 came the Naga National Council (NNC), which declared Nagaland an independent state on August 14, 1947.
•The NNC resolved to establish a "sovereign Naga state" and conducted a "referendum" in 1951, in which "99 per cent" supported an "independent" Nagaland
•Greater Nagalim" comprising "all contiguous Naga-inhabited areas", along with Nagaland. That included several districts of Assam, Arunachal and Manipur, as also a large tract of Myanmar [The Nagaland Assembly has endorsed the 'Greater Nagalim' demand]
•Four years after the government inked the Naga peace accord in 2015, the Centre has now said that the process had almost concluded, despite the fact that the talks had hit a roadblock in its final stages.