Paramahansa Yogananda: (5 January 1893 – 7 March 1952)
●
Paramahansa Yogananda: (5 January 1893 – 7 March 1952)
Hide

— uploads.disquscdn.com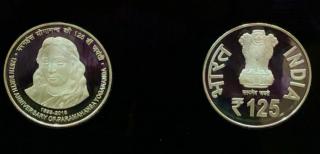 •he was an Indian monk, yogi and guruwho introduced millions to the teachings of meditation and Kriya Yoga through his organization Self-Realization Fellowship (SRF) / Yogoda Satsanga Society (YSS) of India.
[Kriya Yoga is "union (yoga) with the Infinite through a certain action or rite (kriya)]
•He is considered as the "Father of Yoga in the West."
•He was the first major Indian teacher to settle in America, and the first prominent Indian to be hosted in the White House.
•He published his book
Autobiography of a Yogi
in 1946.
•Finance Minister Releases Commemorative Coin on Paramahansa Yogananda to Mark his 125th Birth Anniversary.