●
China proposes to treat Alzheimer's with new drug
▫️
Alzheimer's disease
Hide

— uploads.disquscdn.com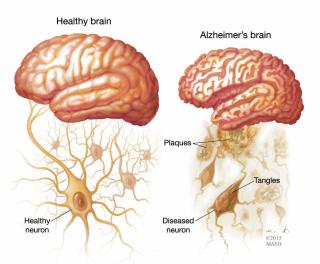 •It is a progressive brain disorder that typically affects people older than 65. When it affects younger individuals, it is considered early onset.
•The disease destroys brain cells and nerves, and disrupts the message-carrying neurotransmitters.
•Eventually, a person with Alzheimer's loses the ability to perform day-to-day activities
•There is no cure for Alzheimer's, because its exact causes are not known. Most drugs being developed try to slow down or stop the progression of the disease
[Alzheimer's involves two proteins, called beta amyloids and tau]
•China recently announced that a new drug, meant to potentially treat Alzheimer's disease, will be available to Chinese patients by the end of this year.
Called
GV-971 or "Oligomannate"
●
Iran nuclear deal
•Iran is trying to increase the pressure on Britain, France and Germany in particular to find some arrangement that will allow them to sell the oil they were buying when Iran was not under sanctions
•Under the Joint Comprehensive Plan of Action (JCPoA) Tehran agreed to significantly cut its stores of centrifuges, enriched uranium and heavy-water, all key components for nuclear weapons
▫️
Possibility in future
•Iran can make things difficult for the U.S. in Afghanistan as also in Iraq and Syria.
•The U.S.'s ability to work with Russia in Syria or with China regarding North Korea will also be impacted
•The impact on world oil prices will be the immediately visible impact of the U.S. decision. Iran is presently India's third biggest supplier (after Iraq and Saudi Arabia), and any increase in prices will hit both inflation levels as well as the Indian rupee.
•It would impact the development of Chahbahar port.