Daily Quick Revision Current Affairs || 1 November 2019
●
Gottiprolu:( in Andhra Pradesh)
Hide

— uploads.disquscdn.com
•Gottiprolu lies on the right bank of a distributary of river Swarnamukhi about eighty kilometers from Tirupati and Nellore.
•Excavation by Archaeological Survey of India in Gottiprolu, Andhra Pradesh indicate it as a Trade Centre of Early Historic Period.
•Among many other antiquities unearthed are one life size Vishnu sculpture and a wide variety of pottery of the early centuries of current era
•On the basis of the brick size and associated findings they can be placed anywhere between 2nd – 1st century BCE or little later (nearly 2000 years old)
●
Rashtriya Ekta Diwas: 31st October
•It marks the occasion of the birth anniversary of Sardar Vallabhbhai Patel.
•Sardar Patel is credited with uniting all 562 princely states in pre-independent India to build the Republic of India.
•In 1917– Elected as the Secretary of the Gujarat Sabha, the Gujarat wing of the Indian National Congress
•Supported the non-cooperation Movement launched by Gandhi and Patel toured the nation with him
•1931- Elected as the President of Indian National Congress in its Karachi sessionwhere the party deliberated its future path.
●
Jammu and Kashmir Bifurcation
• The Jammu and Kashmir Reorganisation Act, 2019 comes into effect from 31st October 2019. [J&K has been divided into two Union Territories.]
•The Constitution of Jammu and Kashmir and the Ranbir Penal Code will cease to exist.
•The Union Territory of J&K will have a legislature while the UT of Ladakh will have no legislature.
•The Chief Minister shall be appointed by the Lieutenant Governor and the other Ministers shall be appointed by the Lieutenant Governor on the advice of the Chief Minister
•The High Court of Jammu and Kashmir shall be the common High Court for the Union territory of Jammu and Kashmir and Union territory of Ladakh
●
Programme for International Student Assessment (PISA);-
↪Is an international assessment that measures 15-year-old students' on reading, mathematics & science literacy in every 3 years.
↪India had taken part in PISA in 2009 & bagged 72nd rank among 74 participating countries.(then UPA government had boycotted PISA)
↪MoHRD officially decided to participate in PISA-2021(Is likely to be administered in schools in Chandigarh)
●
Lymphatic filariasis:
Hide

— uploads.disquscdn.com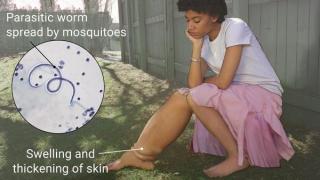 •Also called as elephantiasis, it is Caused by infection with parasitic worms living in the lymphatic system.
•The larval stages of the parasite (microfilaria) circulate in the blood and are transmitted from person to person by mosquitoes.
•May Cause abnormal enlargement of body parts, and leading to severe disability and social stigmatization of those affected
•Lymphatic filariasis poses a grave threat to India.
•Over 40% of worldwide cases are found in India.
●
National Health Profile, 2019:
released by the Central Bureau of Health Intelligence (CBHI)
•Covers comprehensive information on demographic, socio-economic health status, health finance indicators, health infrastructure and health of human resources in the country.
•To create a versatile database of health information and making it available to all stakeholders in the healthcare sector.
•Life expectancy in India has increased from 49.7 years in 1970-75 to 68.7 years in 2012-16. [life expectancy for females is 70.2 years and 67.4 years for males]
•Diabetes and hypertension rate are high among Indians while dengue and chikungunya are a cause of great concern to public health
•
people per square kilometre was reported by the National Capital Territory of Delhi (NCT)
whereas Arunachal Pradesh reported the lowest population density of 17
•The birth rate in rural areas was higher than in the urban.
•The death rate and natural growth rate were also higher in rural areas as compared to the urban