Daily Quick Revision Current Affairs|| 10 November 2019
●
Steel scrap recycling policy
•In a bid to ensure quality scrap for the steel industry, the government has come out with a Steel Scrap Recycling Policy that aims to reduce imports, conserve resources and save energy
•The policy aims to promote circular economy in the steel sector", besides promoting "a formal and scientific collection, dismantling and processing activities for end of life products
•It also aims to decongest the Indian cities from reuse of ferrous scrap, besides creating a mechanism for treating waste streams
●
Kalapani Territory
Hide

— uploads.disquscdn.com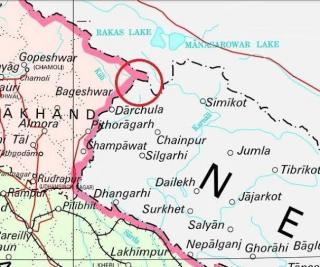 •Nepal government has strongly objected to the inclusion of 'Kalapani' under the Indian Territory as per the newly released political map of India
•Nepal government says that Kalapani is an integral part of the country and that talks are still on between New Delhi and Kathmandu over this "unresolved" area
•Kalapani is located at an altitude of 3600m on the Kailash Manasarovar route.
•It borders Uttarakhand in India and Sudurpashchim Pradesh in Nepal.
[Since the Indo-China war of 1962, Kalapani is controlled by India's Indo-Tibetan Border Police.]
●
Quad countries
•The quadrilateral formation includes Japan, India, United States and Australia.
•All four nations find a common ground of being the democratic nations and common interests of unhindered maritime trade and security.
•The idea was first mooted by Japanese Prime Minister Shinzo Abe in 2007. [However, the idea couldn't move ahead with Australia pulling out of it.]
•It was revived in 2017 and is being viewed as response to increased Chinese economic and military power.
•All four countries share a vision of an open and free Indo-Pacific. Each is involved in development and economic projects as well as in promoting maritime domain awareness and maritime security
●
NASA's Voyager 2 spacecraft
•NASA's Voyager 2 has exited heliosphere and has entered interstellar space:)
[ It is now at 11 billion miles from the earth. ]
•Voyager 2 is the only probe ever to study Neptune and Uranus during planetary flybys.
•It is the second man-made object to leave our planet.
•
Voyager 2 is the only spacecraft to have visited all four gas giant planets — Jupiter, Saturn, Uranus and Neptune
— and discovered 16 moons, as well as phenomena like Neptune's mysteriously transient Great Dark Spot, the cracks in Europa's ice shell, and ring features at every planet.
•Scientists use the heliopause to mark where interstellar space begins
•Launched in the 1970's, and the probes sent by NASA were only meant to explore the outer planets – but they just kept on going
●
"No Money For Terror" Conference
•
India will host the next edition of the "No Money For Terror" conference to be held in 2020
•Recognising the importance of international cooperation in the fight against money laundering and financing of terrorism, a group of FIUs met a few years ago at the Egmont Arenberg Palace in Brussels, Belgium, and decided to establish an informal network of FIUs for the stimulation of international co-operation.
•The ability to prevent and detect money-laundering is a highly effective means of identifying criminals and terrorists and the underlying activity from which money is derived.
●
Kerala Fibre Optic Network Project
•The Kerala Cabinet has approved a Rs 1,548-crore fiber-optic network project.
[To be completed by December 2020]
•To provide free high-speed internet connection to around 2 million families in the state.
•Aims to provide free high-speed internet to over 20 lakh below poverty line (BPL) households.
•It is a collaborative initiative of the state's power utility Kerala State Electricity Board and Kerala State IT Infrastructure Ltd.
•project seeks to fulfil the government's aim of making internet access a 'citizen's right'.
●
SPG, NSG and other security forces — How India protects its VIPs
•The Union government is expected to take away the security cover by Special Protection Group (SPG) being provided at present to Sonia Gandhi, Rahul Gandhi and Priyanka Gandhi. [They will, however, continue to get a Z+ security cover, where they will be provided commandos belonging to CRPF]
•In March 1985, following the recommendations of a committee set up by the Home Ministry, a special unit was created for this purpose under the Cabinet Secretariat. This unit, initially called the Special Protection Unit, was renamed as Special Protection Group in April 1985.
•The SPG Act defined "proximate security" as "protection provided from close quarters, during journey by road, rail, aircraft, watercraft or on foot or any other means of transport" and to "include the places of functions, engagements, residence or halt"
●
Tiger TRIUMP: ( i thought Trump!)
•It is a first tri- services amphibious exercise between India and the US.
[Conducted in Visakhapatnam and Kakinada, Andhra Pradesh. ]
•The exercise will help both the countries to exchange knowledge and to establish professional and personal relationship.
●
Samudra Shakti:
•It is a bilateral maritime exercise between India and Indonesia.
•The latest edition is being held in Bay of Bengal.
•The joint exercises include, manoeuvres, surface warfare exercises, air defense exercises, weapon firing drills, helicopter operations and boarding operations.
●
Cyclone bulbul:
It is the seventh named storm of the unusually active 2019 North Indian Ocean cyclone season.
•Bulbul name was contributed by Pakistan
▫️The season has seen Cyclone Pabuk (South China Sea-Andaman Sea),
Cyclone Fani (Bay of Bengal)
Cyclone Vayu (Arabian Sea)
Cyclone Hikka (Arabian Sea)
Cyclone Kyarr (Arabian Sea)
Cyclone Maha (Arabian Sea)