Daily Quick Revision Current Affairs|| 4 November 2019
●
All visitors to Meghalaya must first register
•Meghalaya has brought an ordinance that makes registration on entry mandatory for visitors who intend to spend more than 24 hours in the state
•An amendment to the Meghalaya Residents Safety and Security Act, 2016 has been passed to include this provision amid demands for an inner line permit (ILP) system to stop illegal immigration into the state.
•Meghalaya Residents Safety and Security Act (MRSSA) 2016 aims to ensure the security of the tenants as well as the safety and security of the citizens of the state.
•Inner Line Permit (ILP) is an official travel document required
by Indian citizens
residing outside certain "protected" states while entering them
•Currently, the Inner Line Permit is operational in Arunachal Pradesh, Mizoram and Nagaland.
●
East Asia Summit 2019 : (being held in Bangkok.)
Hide

— uploads.disquscdn.com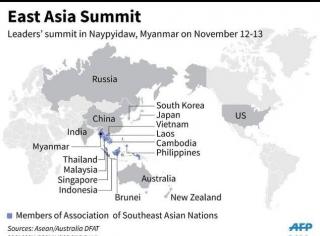 •The first summit was held in Kuala Lumpur, Malaysia on 14 December 2005.
•There are six priority areas of regional cooperation within the framework of the EAS. These are –
Environment and Energy, Education, Finance, Global Health Issues and Pandemic Diseases, Natural Disaster Management, and ASEAN Connectivity.
•It is considered the third pole of world economy after the US and Europe. Its four major economic players namely Japan, China, India and Korea are among the twelve largest ranking global economies.
•Financial and monetary cooperation between ASEAN+6 or EAS countries could be an area of fruitful cooperation in view of the fact that their combined foreign exchange reserves exceed $ 3 trillion
•EAS, representing nearly 50 per cent of the world's population and over 20 per cent of global trade,is a mega gathering and is a testimony to the rise of Asia
●
SCOJTEX- 2019: (The latest edition is being held in India)
View

— uploads.disquscdn.com
•Shanghai Cooperation Organization Joint Exercise on Urban Earthquake Search & Rescue
•Hosted by NDRF.
Aim to rehearse the disaster response mechanism, share knowledge, experience, technology & also for mutual coordination, etc.
•The participants of all 08 member countries namely China, India, Kazakhastan, Kyrgyzstan, Pakistan, Russia, Tajikistan and Uzbekistan shall be participating in this exercise.
•The Shanghai Cooperation Organisation, also known as the Shanghai Pact,
is a Eurasian political, economic, and military organisation
which was founded in 2001 in Shanghai.
●
Global Microscope on Financial Inclusion report: released by Economist Intelligence Unit
•report features 11 new gender focussed indicators that measure financial inclusion for both women as well as men.
•India is among top nations with most conducive environment for financial inclusion in terms of allowing non-banks to issue e-money, proportionate customer due diligence and effective consumer protection.
•The Microscope report was first published in 2007 and was originally developed for countries in Latin American and Caribbean regions but in 2009 it was expanded into a global study.
•The report is a benchmarking index that assesses enabling environment for financial access in 55 countries across 5 categories.
Five parameters across which countries are assessed:
•Government and Policy Support.
•Products and Outlets.
•Stability and Integrity.
•Consumer Protection.
•Infrastructure.
●
'Red Atlas Action Plan Map' atlas and CFLOWS-Chennai
•It is a first of its kind ready reckoner map, prepared by Union Ministry of Earth Sciences to aid state government of Tamil Nadu in effective flood mitigation in Chennai which witnessed the worst deluge in 2015.
•The atlas is aimed at flood mitigation, preparedness, operations and management aspects
•Launched by NIOT.
•It is India's first integrated coastal flood warning system.
•It is an integrated GIS-based decision support system to provide forecast on potential inundation 10 days in advance
●
National Waterway -2
•It is a section of the Brahmaputra River having a length of 891 km between the Bangladesh border near Dhubri and Sadiya in Assam
•First ever movement of container cargo on Brahmaputra (National Waterway -2) begins.
●
India and Bangladesh using the Indo Bangladesh Protocol (IBP) routes
•
The traffic on NW-1 has grown from 5.48 million tonne in 2017-18 to 6.79 million tonne in 2018-19.
Out of the total traffic of 6.79 million tonne on NW-1, approximately 3.15 million tonne is the EXIM trade between India and Bangladesh using the Indo Bangladesh Protocol (IBP) routes.
•The IBP route extends from Kolkata (India) on NW-1 to Silghat (Assam) on NW-2 (River Brahmaputra) and Karimganj (Assam) on NW-16 (River Barak)
●
Fifth India International Science Festival is being held at Kolkata.
•Objective is to instill scientific temper among the masses, showcase India's contribution in the field of S&T over the years and encourage translation of its benefits to people. It aims to build a strategy for inclusive advancement of Science and Technology.
•Theme: 'RISEN India – Research, Innovation, and Science Empowering the Nation'
●
National Institute of Ocean Technology (NIOT):
•Established in November 1993 as an autonomous society under the Ministry of Earth Sciences.
•NIOT has developed niche technologies to mine manganese nodules from deep sea, has developed several deep sea systems like remotely operable vehicles, etc. and is striving hard to bring India on par with developed Nations in the area of Ocean Technology.
•NIOT will be the nodal institution for implementing the proposed Deep Ocean Mission,
●
Dustlik 2019:[ India- Uzbekistan]
•It is the first-ever India-Uzbekistan Joint Exercise.
•Being held at Tashkent in Uzbekistan.
•The exercise will enable sharing of best practices and experiences between the Armed Forces of the two countries and would lead to greater operational effectiveness.
•The primary focus will be on counterterrorism.