Daily Quick Revision Current Affairs || 7 November 2019
●
Office of Profit
•If an MLA or an MP holds a government office and receives benefits from it, then that office is termed as an "office of profit".
•A person will be disqualified if he holds an office of profit under the central or state government
•MP or MLA can be disqualified for:
a) Holding an office of profit under government of India or state government;
b) Being of unsound mind;
c) Being an undischarged insolvent;
d) Not being an Indian citizen or for acquiring citizenship of another country
•【President Ram Nath Kovind has rejected a petition demanding disqualification of 11 Delhi MLAs belonging to Aam Aadmi Party for allegedly holding office of profit】
●
National Registry of Voluntary Organ Donors
•The Punjab and Haryana High Court has directed the Centre and the states of Punjab and Haryana, as well as the Union Territory of Chandigarh, to implement 'The Transplant of Human Organs and Tissues Act, 1994' in letter and spirit
•In May 2019, the PGIMER was asked to constitute a committee of doctors for deliberations over the subject, and to submit a report containing measures to promote cadaver donations
▫️
Recommendations made by the committee:
•Create a National Registry of Donors, and a biometrics-based authentication of donors and recipients.
•A database of all surgeons and medical experts sanctioned for the transplantation should also be maintained etc.
•Committee has said there needs to be the involvement of certified NGOs and religious bodies to create positive awareness.
●
BIMSTEC
•In an effort to integrate the region & to promote strategic alignment among the member-states [the grouping was formed in 1997]
•BIMSTEC has 7 members [Bh-BIMST-Nepal]
° Bh-->Bhutan
° B --> Bangladesh
° I --> India
° M --> Myanmar
° S --> Sri Lanka
° T --> Thailand
° Nepal --> means Nepal
•First ever 'BIMSTEC Ports' Conclave will be held at Visakhapatnam in Andhra Pradesh.
•The Conclave will explore the possibility of increasing economic cooperation by furthering EXIM trade and coastal shipping.
•The Bay of Bengal is the largest bay in the world. Over one-fifth (22%) of the world's population live in the seven countries around it, and they have a combined GDP close to $2.7 trillion [ How?, $ 2.9 trillion+ GDP belongs to india only!]
•The Bay also has vast untapped natural resources.
One-fourth of the world's traded goods cross the Bay every year.
●
Core Investment Companies (CICs)
•CICs are non-banking financial companies with asset size of ₹100 crore and above which carry on the business of acquisition of shares and securities, subject to certain conditions
•CICs having asset size of below Rs 100 crore are exempted from registration and regulation from the RBI, except if they wish to make overseas investments in the financial sector.
•The Reserve Bank has constituted a working group that will review the regulatory and supervisory framework for core investment companies
●
Alternative Investment Funds(AIFs);-
•Means any fund established or incorporated in india which is a privately pooled investment vehicle
•which collects funds from sophisticated investors,whether Indian or foreigners
•to invest largely in equity & equity-link instruments
•The Union Cabinet has approved the creation of an Alternative Investment Fund (AIF) of Rs. 25,000 crore [~ $ 3.6 billion] to provide last-mile funding for stalled affordable and middle-income housing projects across the country.
•The Cabinet also approved the establishment of a 'Special Window' to provide priority debt financing for completion of stalled housing projects in the affordable and middle-income housing sector.
●
Gujarat Control of Terrorism and Organised Crime (GCTOC) Bill
•The Bill, earlier named as the Gujarat Control of Organised Crime Bill, failed to get the presidential nod thrice since 2004. Now, Sixteen years after the first version of it was passed by the Gujarat Assembly, the Gujarat GCTOC has finally become law.
•The Bill provides for admissibility of evidence collected through interception of mobile calls of an accused or through confessions made before an investigating officer, in a court of law.
•Clause 16, which makes confessions before police officers admissible in court.
•The bill empowers police to tap telephonic conversations and submit them in court as evidence.
•It extends period of probe from stipulated 90 days to 180 days before filing of charge sheet.
【 Overall it gives more power of investigation to government and weak the Fundamental Rights of accused!】
●
Thiruvalluvar: [6th-century CE or earlier]
Hide

— uploads.disquscdn.com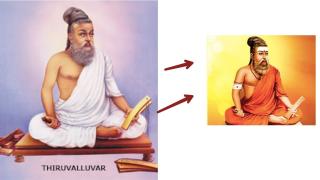 •Thiruvalluvar, commonly known as Valluvar, was a celebrated Tamil poet and philosopher.
• He is best known as the author of Thirukkuṛaḷ, a collection of couplets on ethics, political and economical matters, and love. The text is considered an exceptional and widely cherished work of the Tamil literature
•Recently, the Tamil Nadu BJP kicked up a controversy by tweeting a picture of the ancient Tamil saint Thiruvalluvar in a 'Hindu' style, replacing his usual white shawl with a saffron one, and adding Hindu symbols such as 'vibhuti' in the picture
●
Shaala Darpan portal:
•Human Resource Development ministry has launched Shaala Darpan portal.
•It is an E-Governance school automation and management system for Navodaya Vidyalaya Samiti (NVS) in New Delhi.
It is an end to end e-Governance school automation and management system.
•It is a database management portal, where information about all government schools and education offices is kept online and updated as a continuous process.