●
Programme for International Student Assessment (PISA);-
↪Is an international assessment that measures 15-year-old students' on reading, mathematics & science literacy in every 3 years.
↪India had taken part in PISA in 2009 & bagged 72nd rank among 74 participating countries.(then UPA government had boycotted PISA)
↪MoHRD officially decided to participate in PISA-2021(Is likely to be administered in schools in Chandigarh)
●
Lymphatic filariasis:
Hide

— uploads.disquscdn.com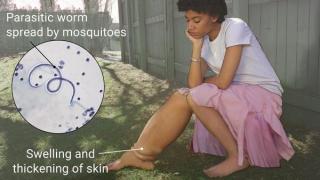 •Also called as elephantiasis, it is Caused by infection with parasitic worms living in the lymphatic system.
•The larval stages of the parasite (microfilaria) circulate in the blood and are transmitted from person to person by mosquitoes.
•May Cause abnormal enlargement of body parts, and leading to severe disability and social stigmatization of those affected
•Lymphatic filariasis poses a grave threat to India.
•Over 40% of worldwide cases are found in India.